Active Investigation - Erin Brooks (21-26975) - Updated February 3, 2022
Active Investigation - Teri-Lynn Wilson (23-8564) - Updated May 31, 2023
The Fredericton Police Force takes every missing person report seriously, and they are each thoroughly investigated. It does not matter if someone has been reported missing before, or what their personal circumstances are – our priority is always to ensure the health and safety of the person reported missing.
If you need to report someone missing – don't wait! 
Call 506-460-2300 to file a report.
If you believe they are in immediate danger, always call 9-1-1.
Should you wish to remain anonymous, call Crime Stoppers at 1-800-222-8477.
Fredericton Police investigate on average 100 missing person files each year. Most missing persons are located safely and quickly through investigative leads, without needing to share information with the public. 
If we need the public's help to locate a missing person, we only share information relevant to the investigation, and once a person is located, all personal information is removed from our website and social media to respect privacy.
For more information about Fredericton Police missing person investigations, please see the attached Missing Persons fact sheet (PDF). 
Image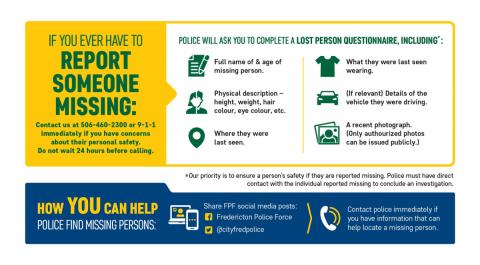 Amber Alert
New Brunswick's AMBER Alert Program links law enforcement, media broadcasting agencies, and the public in locating abducted children. The program gives the public up-to-date information about a child abduction by using widespread media broadcasts and soliciting the public's help in having the child returned home safely.
The Alert is only activated by a specific member of a police service who is an authorized user and it is only used for serious child abduction cases. (Source: RCMP NB)
For more details visit the NB RCMP Amber Alert webpage.